Do You Have to Cook Your Meals on Nutrisystem?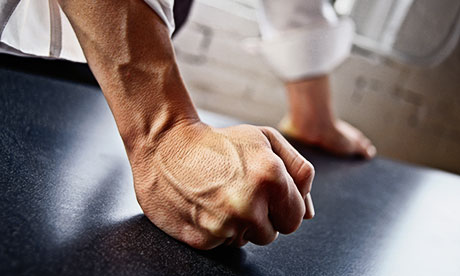 Someone recently asked me how much shopping, cooking, planning or cleaning you have to do on the Nutrisystem diet. The answer is not much. While you will be eating five times each day, for the most part, all of these meals are provided for you. When you place an order, the company ships all of your meals to wherever you direct them to. While some of these meals require for you to assemble them to to add dairy, fruit, or veggie sides, this takes only minimal effort. In the following article, I'll provide an example of a day's worth of meals and sides on Nutrisystem to show you how much cooking or food preparation is involved.
For our example breakfast, let's have the Nutrifrosted crunch cereal. Our side for this can be strawberries. All this would require would be to cut up the strawberries. If this is an issue or you don't have time for this, you could chose a cup of yogurt for your side instead. Other than the strawberries or whatever side you chose, all you really have to do is pour the cereal and milk.
For lunch, let's have the fettuccine Alfredo. This item can be microwaved (which I think is the easiest way) or prepared on top of the oven. Either way, it's quick and easy, but using the microwave is a no brainer for me. There's a fill line so you know where to stop when you add the water. I figure sliced tomatoes would be a good side for this one. But if you don't have time to slice the tomatoes, you could use already cut up carrots or celery sticks.
For an afternoon snack, let's have nachos. This pretty much only requires for you to open the bag and dig in. For dinner, I've chosen the pepper steak with noodles. It's kind of a no brainer to have a small salad as your side. You could also go for red pepper slices or, if you wanted something ready made, cottage cheese. This once can be microwaved or boiling water can be added to it.
Finally, dessert would be our last meal of the day. I would chose the fudge brownie. Like the cereal and the nachos, this item is ready to eat. You just remove the wrapper. As you might can tell from this article, there is very little (if any) cooking or preparation involved with the Nutrisystem diet. Most of the meals require very minimal efforts like removing the wrapper, or pouring and / or microwaving or heating up the food in whichever way you chose.
For people who enjoy cooking, this might not be all that attractive. But I've always seen this as a positive thing because I'm one of those people who would prefer that most of work has been done for me. If you give me a lot of wiggle room to make the wrong choices, I'm generally going to. So I'd rather only be responsible for following along and eating what has been provided.